After being injured in an accident, one of your first thoughts may be whether you should hire an attorney and when. If you are coping with the devastating effects of a serious personal injury or the tragic loss of a loved one, it is important to hire an attorney that possesses the necessary level of skill as a trial lawyer and who will devote his or her time, energy, and resources to resolve your injury claim. Hiring an attorney after your accident will allow you to focus on your health and recovery.
Research has shown that people who hire attorneys receive larger settlements than people who handle personal injury claims on their own. A study that was initially published by the Insurance Research Council in 1999 and has since been updated, found that accident victims who hired an attorney to help them pursue their claim received 40% more in settlement than accident victims who did not hire an attorney. A study published by the All-Industry Research Advisory Council likewise found that accident victims who retained an attorney received more in settlement ($1.59 per dollar of loss) as compared to accident victims who did not hie an attorney ($1.26 per dollar of loss).
When should I hire an attorney?
It is important to hire a lawyer as soon as possible after your injury. The weeks and months after your accident will be full of visits with your doctors, physical therapy, and possibly, surgery. Insurance adjusters know that accident victims are most vulnerable immediately after the accident and may pressure you into accepting a settlement for significantly less than what your claim is worth. Often, these settlement offers are for a lump-sum payment that does not include payment for ongoing or future medical treatment. The settlement may not even cover all of the medical bills you have incurred to-date. If you have never been involved in an accident claim or if you are not an attorney experienced in handling injury claims, you may not know whether the insurance company is negotiating in good faith and providing a fair settlement offer.
After your accident, a lawyer can help you navigate your injury claim, including investigating the claim, gathering evidence to demonstrate the negligent conduct, dealing with insurance companies, and negotiating on your behalf. A skillful attorney will be able to help you navigate any notice requirements from your insurance company (see our blog on why you should notify your insurance when you weren't at fault HERE). Additionally, a lawyer will help you receive a fair settlement that encompasses all aspects of your claim, including your medical bills, lost time from work, scarring/disfigurement, future medical costs, and pain and suffering.
Being involved in an accident can be dangerous and scary. Injuries and the costs of treating those injuries can easily add up. If you or a loved one has been injured as the result of another's negligent conduct, contact personal injury attorney John Malm at John J. Malm & Associates to learn more about how you may be entitled to receive compensation for your injuries.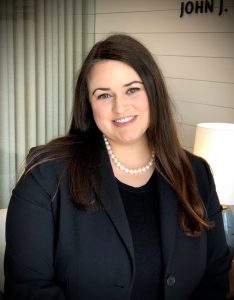 About the Author: Rachel Legorreta is an associate with the law firm of John J. Malm & Associates, where she focuses her practice on personal injury litigation. She graduated magna cum laude from Northern Illinois University College of Law and is the current Assistant Editor of the DCBA Brief.