Across the country, hundreds of people are getting injured as a result of glass shower doors shattering and exploding. According to the Consumer Product Safety Commission (CPSC), an average of 500 people are injured yearly as a result of being injured by a shattered glass shower door. During the time period of 2016 through 2020, the CPSC estimates that 4,900 people visited the emergency room due to an exploding glass shower door. The problem has been highlighted by the CPSC since 2016, when it requested that glass shower door manufacturers make their products safer.
What causes glass shower doors to shatter or explode?
Glass shower doors can shatter due to various issues, such as manufacturing defects, impurities in the glass, incorrect installation, chips or damage in the glass, loose hardware, repetitive impact, and repeated exposure to water vapor and steam. During the manufacturing process, the glass becomes tempered in order to become impact resistant. If the tempering process is done incorrectly, the glass can easily break. If the glass does break, it fractures into tiny pieces, which then can easily strike a person near their vicinity and cause serious injuries.
What types of injuries are caused by exploding glass shower doors?
A sudden glass shower door explosion can result in serious injuries. The severity of the injuries sustained in a glass shower door explosion often depends on the individual's proximity to the shattering glass door and the manner in which the glass shower door shattered. The most common injuries sustained in an exploding glass shower door incident include lacerations, nerve damage, traumatic amputations, permanent scarring, and death. It is important to seek medical attention immediately at a hospital emergency room if you have been injured as a result of a shattering glass shower door, as your injuries may be more severe than you realize.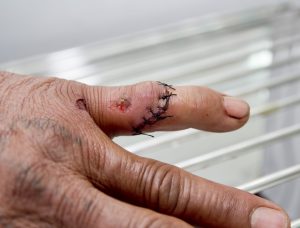 Common injuries from exploding glass shower doors include lacerations to the hands and feet
Why is it important to contact a lawyer if I've been injured as a result of an exploding glass shower door?
To successfully litigate an exploding glass shower door case, it is imperative to have an expert examine the glass shower door particles to determine the cause of the explosion. An expert will be able to examine the particles under a microscope to determine what caused the glass shower door to shatter. An experienced attorney will immediately collect and store the glass shower door particles for a qualified expert to examine, photograph, and document. An attorney will also put the glass shower door manufacturer and property owner, if needed, on notice of the defective product.
The Illinois product liability lawyers at John J. Malm & Associates have successfully resolved claims by clients injured by glass shower doors that shattered. If you or a loved one has been injured by an unsafe or defective product, contact product liability attorney John Malm at John J. Malm & Associates to learn more about how you may be entitled to receive compensation.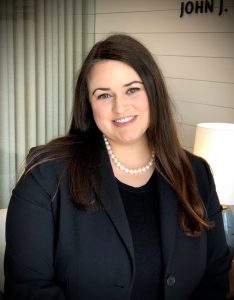 About the Author: Rachel Legorreta is an associate with the law firm of John J. Malm & Associates, where she focuses her practice on personal injury litigation. She graduated magna cum laude from Northern Illinois University College of Law and is the current Assistant Editor of the DCBA Brief.