Around 6:30 a.m. on the morning of Friday, June 12, 2020, 17-year-old David Aguilar and 17-year-old Jorge Acosta-Flores were riding in a blue Infiniti G37X in the westbound lanes of North Avenue in Carol Stream, Illinois, when they struck the back of a red Freightliner box truck. The Infiniti got pinned under the rear of the truck and caught on fire. Acosta-Flores was driving the car, and he was presumed to have died immediately upon impact with the box truck. Aguilar was sitting in the passenger seat, and he was pronounced dead after being transferred to Central DuPage Hospital to receive emergency medical care following the accident. Both boys were about to begin their senior year at Wheaton North High School in Wheaton, Illinois.
A Carol Stream police officer witnessed the car crash. Immediately after the car accident, the officer used a fire extinguisher to put out the fire that was caused by the impact. Photographs of the scene show the front of the Infiniti was completely destroyed. The windshield shattered and the roof caved into the interior of the vehicle. Additionally, the driver of the box truck is reportedly not injured, but there is still an ongoing investigation into what exactly happened to cause this fatal accident.
This year, there have already been 345 fatal car crashes with 388 fatalities in Illinois. 52 of these fatal car accidents involved unlicensed drivers, and 93 of the car accidents included victims who were not properly using seatbelts. While the police are still investigating what exactly happened in this accident, our DuPage County car accident attorneys are well-versed in teenage driving statistics. The rate at which teenagers aged 16-19 crash their cars is almost four times the rate of those who are older, and those who are 16 or 17, like Acosta-Flores, are three times more likely to get in a fatal car crash than those 20 and older. For more information like this, visit our page on statistics on teen drivers in Illinois.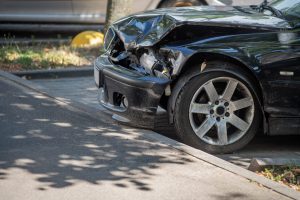 If it was 2018, Jorge Acosta-Flores and David Aguilar would have been just two of 2,476 teenagers that died in the United States in car crashes or from car crash-related injuries. There are many factors that go into teen car crashes such as distracted driving, drinking and driving, and even inexperience on the roads. Statistics also show that having others in the car can provide more dangerous situations for teen drivers. According to the Insurance Institute for Highway Safety (IIHS), passengers in the car increase the risk of crash for teenage drivers, but it decreases the risk of crash for those 30 and older.
As previously stated, there is no public knowledge about what went wrong on North Avenue on Friday, June 12, 2020 that caused this fatal car accident. There is no knowledge of whether the teen driver was distracted at all, and there is no knowledge of whose fault it was because of the ongoing investigation. However, teenage drivers get in motor vehicle accidents all the time because there are so many different things that can go wrong on the road. If you believe that you or a loved one have been a victim in an accident caused by someone else on the road, we invite you to contact the Naperville car accident lawyers at the Law Firm of John J. Malm & Associates for a free case review to discover how you may be able to receive legal compensation.